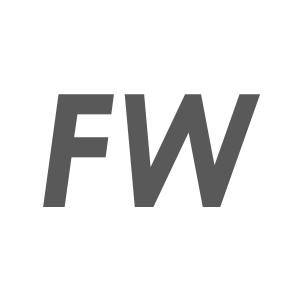 Simple. reliable. versatile.
Intuitive, flexible interface
Songs, bibles, videos, images
purchasable licensed bibles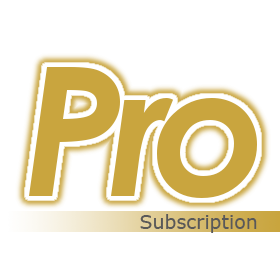 Innovative. Powerful. Professional.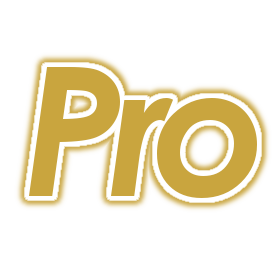 Innovative. Powerful. Professional.
Full Feature Set
FreeWorship is a rich presentation software containing many features, yet remains simple to use. No need to spend a long time learning how to use a new piece of software, as the interface is intuitive.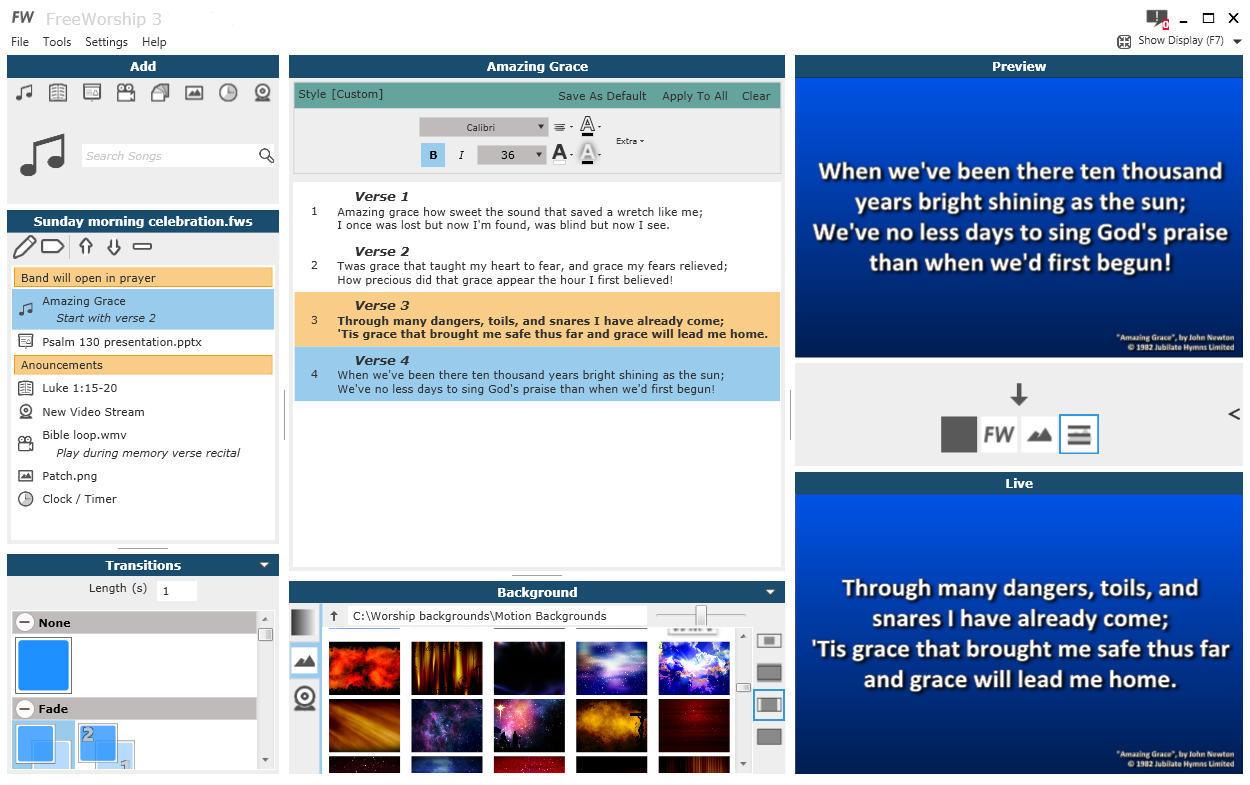 General
Display everything – Songs, bible passages, images, videos, PowerPoint presentations, webcams, websites, countdown clocks, scrolling alerts, websites and more. You say it; FreeWorship will display it
Preview display – See a full preview of what a slide looks like before putting it on the main screen.
Styling – Customise the look of your service by changing the size, font, colour and position of your text. Then top it off with a nice background colour, image or video of your choice.
Ease of use
Designed for worship – Whether you've got a fixed running order or you like to switch things up during the service, FreeWorship is flexible enough to accommodate your style of worship.
Quick edit – Right click on a verse to edit a song with lightning speed. Good for those pesky spelling mistakes.
Auto-verse – When you search for song lyrics, FreeWorship not only finds the right song, but pre—selects the right verse.
Auto-size – Enable the Auto-size feature and FreeWorship makes sure your text always fits on the screen
Bashers – Quickly display a bible verses, notices and scrolling alerts using the Bible Basher, Slide Basher and Alert Basher.
SlideSets – Create simple presentations and slide shows without leaving FreeWorship.
Remote clicker compatible – If you want you can set up your service in advance and run FreeWorship from the pulpit using your remote clicker.
Import your old songs – If you're switching from another product, FreeWorship can import your existing song library.
Compatibility
Songs – FreeWorship will import songs from CCLI SongSelect, Easy Worship (2009 & 6), DreamBeam, Mission Praise, OpenLP, OpenLyrics, OpenSong, SongPro, SongShow Plus and Words of Worship
Bibles – FreeWorship will import Zefania and OpenSong bibles
Images – All popular formats
Videos – If VLC can play it, FreeWorship can play it
PowerPoint – 2007, 2010, 2013 and 2016
Advanced
Choose your output Display – Choose the FreeWorship output screen with complete control. You can even span the presentation across multiple projectors.
Stage Display – Use a foldback display to give the people on stage extra information about the current slide and what's coming up next.
Synchronisable database – With FreeWorship's file based database you can use a file synching service like Dropbox to edit songs on one PC while presenting on another.
Database Manager – View, search and administer your entire song library from a single panel

And if those features aren't enough, with FreeWorship Pro you get even more
Priority Support – Jump the queue and get help when you need it most. It's our way of saying "thank you"
Google Slides – Select and display Google Slides presentations within FreeWorship
SongSelect integration – Download songs directly from CCLI SongSelect
CCL report integration – Report your CCL songs from within FreeWorship
Bible search – Search for verses using our new bible search engine
Website projection – Project any website using webpage service items
Live Twitter feed – Engage people in your social media with live scrolling tweets
Video colour tweaking – Adjust video brightness and contrast in seconds
Drag and drop – Drag and drop files and images straight into your service list
Child lock – Protect important settings so you don't accidentally change them in the heat of the moment